INTERNATIONAL CONFERENCE ON CARDIOLOGY 2022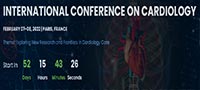 The Cardiologist Scientex Conference solicits all the inspired participants, researchers, and beloved students to attend our grand "INTERNATIONAL CONFERENCE ON CARDIOLOGY" scheduled on FEBRUARY 07-08, 2022.
With individuals from around the world zeroed in on finding a few solutions concerning Cardiology, this is your single most clear chance to achieve the best amassing of people from the mending focuses, Universities, Heart Associations, and so forth...

Theme: "Exploring New Research and Frontiers in Cardiology Care"

All the conference proceedings and the full-length articles will be published FREE in Jomard Publishing The Cardiologist (ISSN 2520-6494).

Here the Cardiology Conferences 2022 provides an excellent global platform for professionals in cardiovascular health by organizing conferences, workshops, seminars, B2B sessions in addition to the interactive gatherings from all over the world with a wide range of discussing innovational discoveries to advance the aegis and medicaments of heart and vascular conditions.


Event Properties
| | |
| --- | --- |
| Event Date | 07 Feb 2022 |
| Event End Date | 08 Feb 2022 |
| Capacity | Unlimited |
| Name of the Organizer: | Scientex Conferences. |
| Person of Contact | |
| Location | Paris, France |